Nyah, Nyah Sally!

Well, I hate to say "I told you so" to Sally . . . Primarily because, you know, she's a FICTIONAL. CARTOON. CHARACTER, and maybe I shouldn't feel all holier than thou towards someone who lives in a world with a gray foreground (and how much do I love that today's foreground is a guy with a dog in an E-collar? Very much!). HOWEVER: Sally,
I TOLD YOU SO
!!! She couldn't keep the bad news from Hilary forever. I'm sure Hilary got suspicious once they went to the emergency vet. I predict Kitty comes out of this ordeal OK. Cats have nine lives, you know. The Forths are pretty abominable cat owners, but they can't have used up all her lives.
How long do you think they've had her? One year. But it's the same year over and over, because this is one of those "timeless" strips. For the non-aging strips, it's like Groundhog Day, but it lasts all year. They have the same year over and over and over again -- the men forget Valentines, the family dyes Easter eggs, the kids mess up breakfast in bed for mom on Mother's Day, they give dad a hideous tie on Father's Day, they shoot off fireworks on July 4th, overdo hamburgers on Labor Day (and Memorial Day, too, come to think of it), go back to school, are visited by the Great Pumpkin, fall asleep after Thanksgiving dinner, get tangled up in Christmas lights, drink too much on New Year's . . . AND START ALL OVER AGAIN.
Yo brah, Jeffy's got some dope pants, rap-dawgs: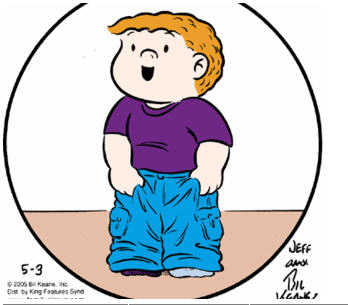 ++++++++++
Where does Jim Davis get ideas for his "extras?" Find out
here
.